The Bathing Water Directive (2006/7/EC ) is the legal instrument for managing environment and reducing health risk at bathing in natural waters. Its aim is to protect human health and preserve, protect, and improve the quality of the environment.
Introduction
Member States are obliged to monitor, report and disseminate actively and promptly information on bathing water quality. An officially recognised bathing water, implies sound management of its use, quality, and pressures. The monitoring of bathing water primarily focuses on the two types of bacteria (Escherichia coli and intestinal enterococci) that indicate pollution from sewage and livestock breeding. Polluted water can have impacts on human health, causing stomach upsets and diarrhoea if swallowed.
Do you know?
21 859 is the number of bathing waters in Europe
European bathing waters are classified into 4 quality classes
Around 95% of the bathing waters in Europe are considered safe
Status of Bathing water in Europe
Each year, the Commission and the European Environment Agency publish an on-line European bathing water quality assessment based on the data provided by the Member States. Bathing water quality in Europe remains high. The minimum water quality standards, determined primarily by two distinct bacteria values, are met at 95.2% of sites.
The share of excellent sites grew continuously from the adoption of the Directive until 2015, when it stabilised at more than 80%. In 2021, it was 84.7% across Europe.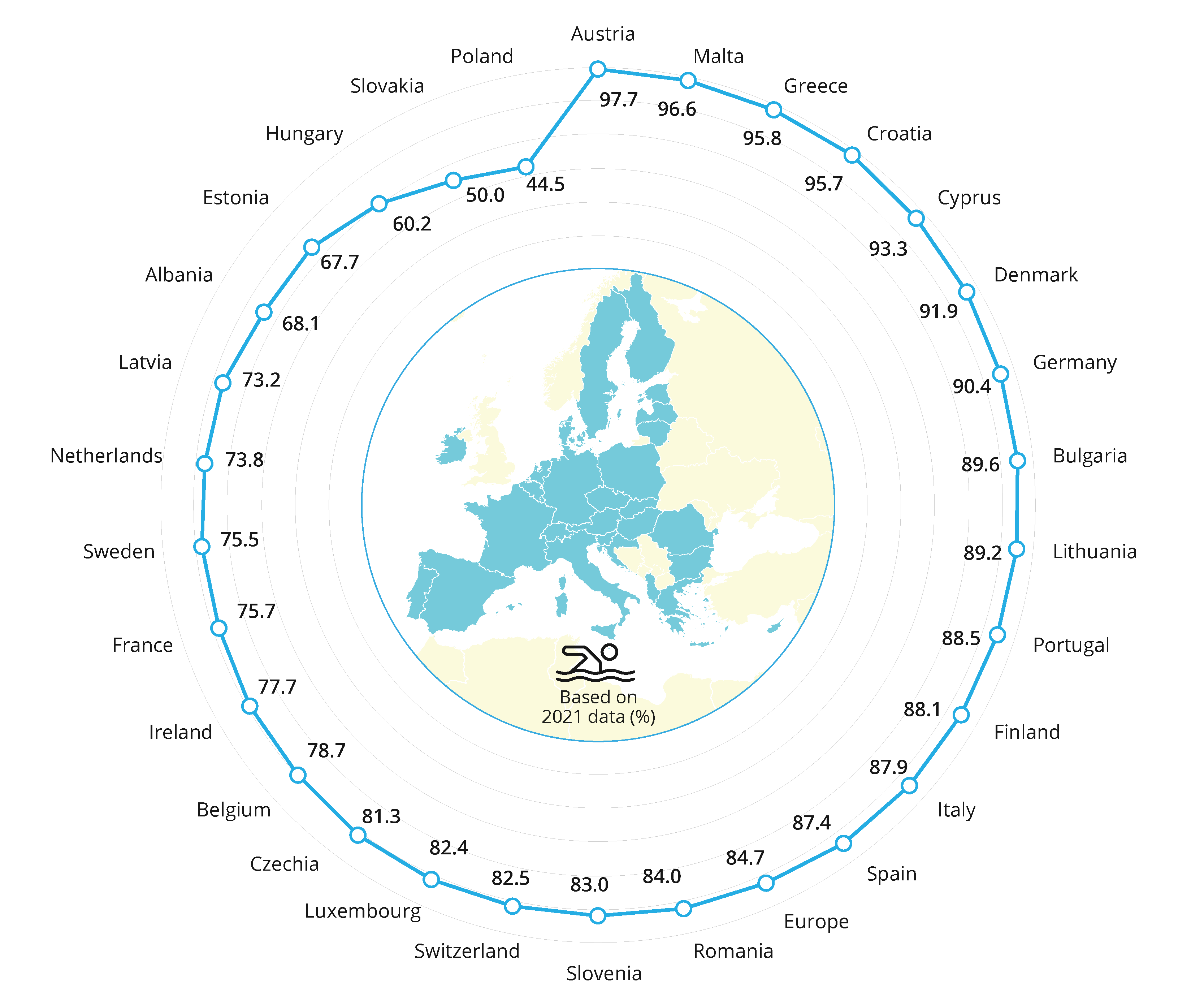 In six EU countries, 3% or more of bathing waters were of poor quality: Estonia (two bathing waters or 3.1%), France (99 bathing waters or 3.0%), the Netherlands (34 bathing waters or 4.6%), Latvia (two bathing waters or 3.6%), Slovakia (one bathing water or 3.1%) and Sweden (16 bathing waters or 3.5%). In Albania, the number of poor bathing sites dropped significantly since 2015, when 31 bathing water sites (or 39.1%) were assessed as poor. In 2021, there were only eight poor bathing waters (or 6.7%) in Albania. This improvement can be linked to the construction of five wastewater treatment plants in Albania in recent years.
Bathing water quality is linked to the implementation of urban waste water treatment, as pollution is frequently linked to untreated waste water.
If you want to learn more
References
In addition to an annual assessment of the state of European bathing waters, the European Environment Agency (EEA) also produces more in-depth, background-oriented reports on bathing water management and quality. The report on Bathing water management in Europe: Successes and challenges addresses quality aspects other than bacteria, including the future challenges.
There are also activities in implementing alternative monitoring methods. The
The World Health Organisation (WHO) has been active in analysing and recommending scientific, analytical, and epidemiological developments relevant to the bathing waters (see publication).