Marine mammals
Europe is home to 44 species marine mammals. These mammals include whales, dolphins, porpoises and seals, and the species vary between regions.
Photo: Grey Seal
Source: © Alex Mustard
Most mammals are migratory and their wide-ranging movement makes conservation assessments especially challenging. There are, however, assessments that illustrate evidence of population stress and decline in specific species in each biogeographic region.
The common seal is, for instance, considered to be in 'unfavourable' conservation status in both the North-east Atlantic Ocean and the Baltic Sea. In the Mediterranean Sea and Macaronesian areas, the monk seal is in decline or has 'unfavourable' conservation status. The conservation status of the vast majority of marine mammals, however, remains unknown. This gap in data collection is made clear by assessments undertaken in both the MSFD and the Habitat Directive.
For the MSFD assessment in 2012, 56 assessments were undertaken by EU Member States and nearly 80 % concluded that the species' status was 'unknown'. Similarly, under the Habitats Directive, 71 % of the biogeographic assessments done for marine mammals concluded that the species' conservation status was 'unknown'.
Several pressures influence the marine mammals, e.g. extraction of fish and shellfish, and underwater noise and other forms of energy input.
Map showing conservation status of marine mammals per biogeographic region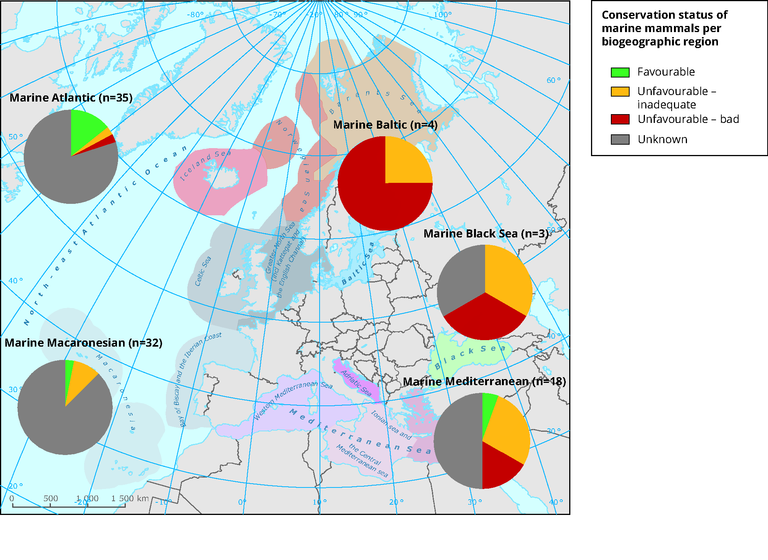 Source:  http://www.eea.europa.eu/data-and-maps/figures/conservation-status-of-marine-mammals
Relevant MSFD Descriptors

Descriptor 1. Biodiversity is maintained

 The quality and occurrence of habitats and the distribution and abundance of species are in line with prevailing physiographic, geographic and climatic conditions.