Turtles
Five species of turtles can be found in Europe's seas. They can be primarily found in the Mediterranean Sea, where the green turtle (Chelonia mydas) and the loggerhead turtle (Caretta caretta) nesting populations are considered as indigenous. Another three species of turtle are visitors to the Mediterranean Sea and the North-east Atlantic Ocean.
Photo: Loggerhead Turtles
Source: © ALNITAK
Three turtle species were evaluated under the Habitats Directive: the loggerhead, the green and the leatherback turtle. All three species were found not to be in a 'favourable' conservation status.Moreover, information from fisheries statistics and modelling studies indicate that a large number of turtles are killed unintentionally as by-catch in fishing activities. Scientists estimate that some 44 000 turtles are killed this way every year.
Several pressures influence the marine turtles e.g. extraction of fish and shellfish, and marine litter.
Conservation status of marine turtles per biogeographic region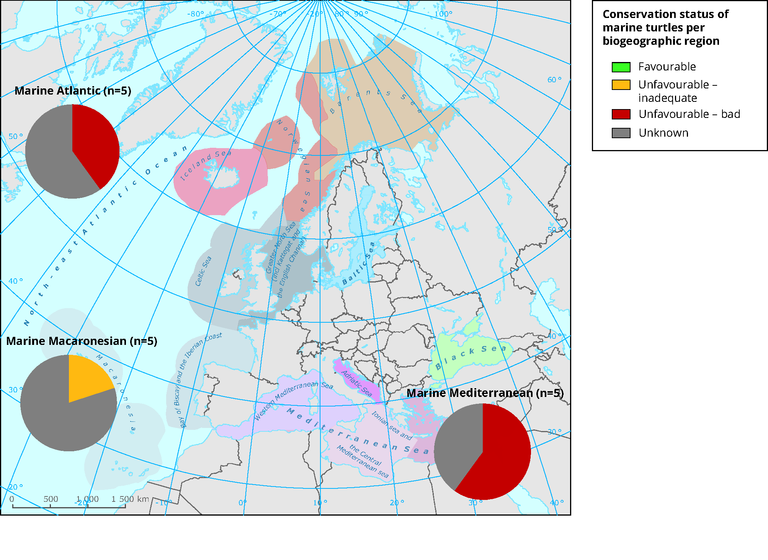 Source: http://www.eea.europa.eu/data-and-maps/figures/conservation-status-of-marine-turtles
Relevant MSFD Descriptors

Descriptor 1. Biodiversity is maintained

 The quality and occurrence of habitats and the distribution and abundance of species are in line with prevailing physiographic, geographic and climatic conditions.