Floodplains are a very important part of the river system because when in their natural state they deliver multiple important ecosystem services and offer protection in a changing climate. Today, they are, however, widely environmentally degraded.
Introduction
Rivers are much wider than the channels we associate them with. The areas next to rivers, which are covered by water only during floods, are also part of the river system, and these areas act as the interface between the catchment and the river. Known as floodplains, in their natural condition they are an important ecological part of this system: they filter and store water, store CO2, ensure both natural flood protection and the healthy functioning of river ecosystems, and help sustain the high biological diversity present there.
In spite of their ecological importance, floodplains are today widely environmentally degraded.
Protection and restoration of floodplains is encouraged by provisions in the Water Framework Directive, the Floods Directive, and the Habitats and Birds Directives. Their restoration is expected to be further enhanced by the Biodiversity 2030 strategy objective to restore 25 000 km of free-flowing rivers.
In EEA-39 countries, 7 % of the area is located in the potential floodplain and around 12 % of the population lives there.
70-90 % of floodplains have been environmentally degraded over the centuries
Floodplains can be restored using natural water retention measures that also support delivery of multiple ecosystem services and offer climate protection
Discover more in this new storymap about River Floodplains in Europe. Open in full screen
Status
Floodplains have been environmentally degraded as a result of structural flood protection, river straightening, disconnection of floodplain wetlands, agricultural land use and urbanisation over the past two centuries. A preliminary assessment of floodplain condition based on two indicators of lateral connectivity suggest that a large share of floodplains is substantially to severely degraded (FIGURE 1 and FIGURE 2).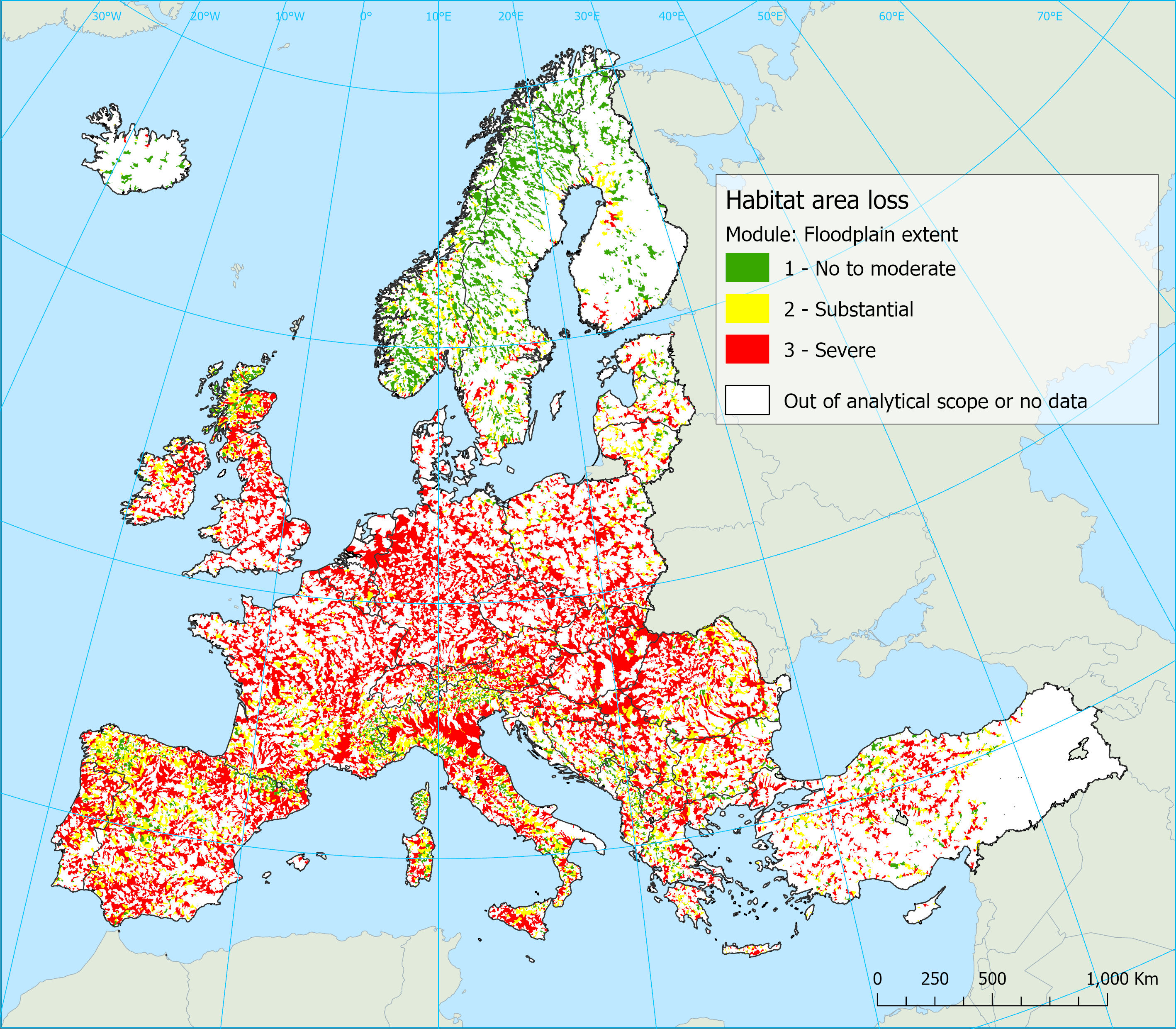 FIGURE 1
Habitat area loss indicator.
This indicator shows deviations from natural vegetation patterns.
Source: Preliminary assessment of river floodplain condition in Europe. ETC/ICM Report 5/2020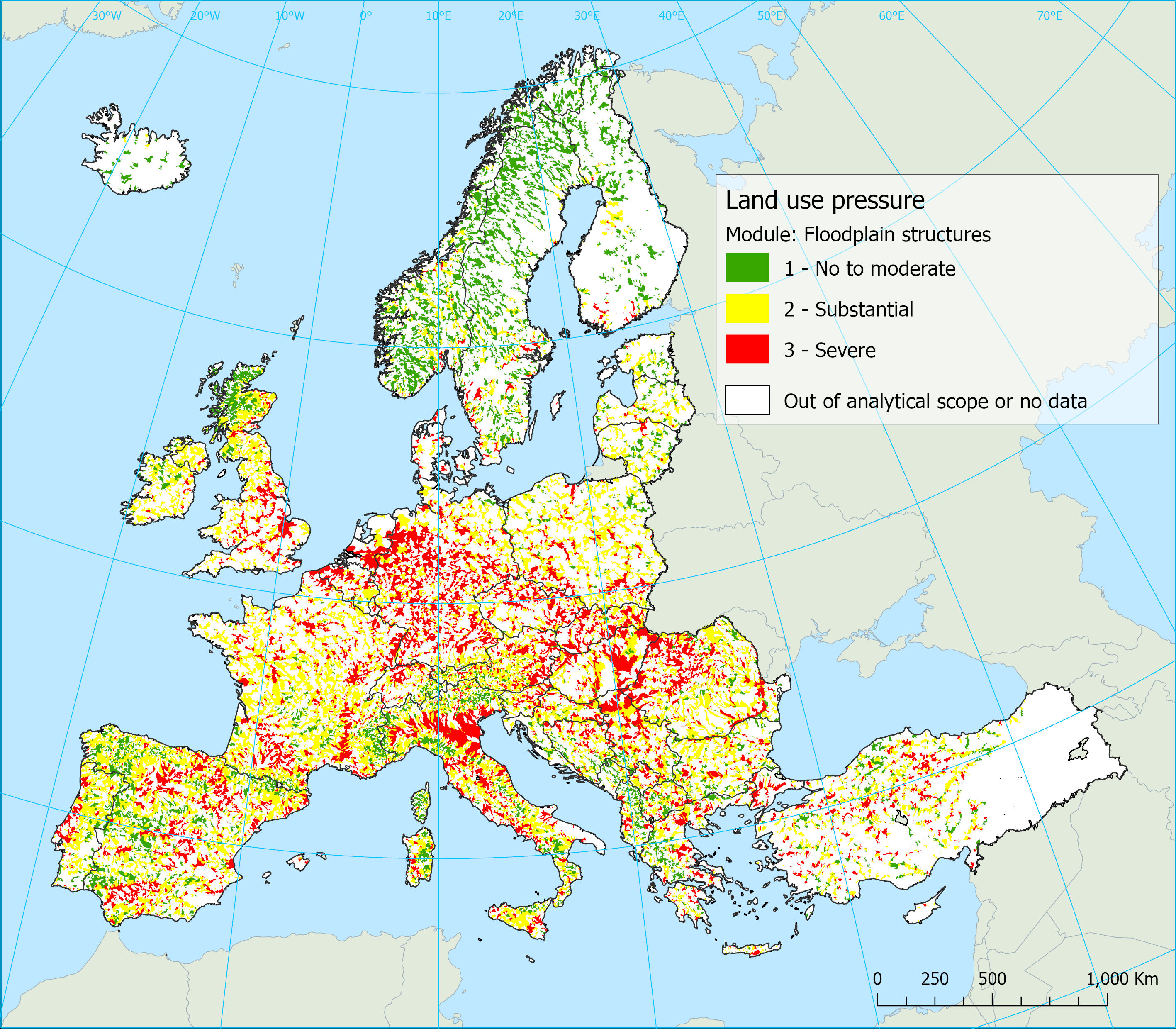 FIGURE 2
Land use pressure indicator.
This indicator shows catchments where urbanization and agriculture are predominant activities.
The large pressures on the floodplains are also reflected in the conservation status assessment performed under article 17 of the Habitats Directive. Selecting those listed habitats that are found in floodplains, only 17% are found in favourable conservation status, and for some large biogeographic regions none are in favourable conservation status (FIGURE 3).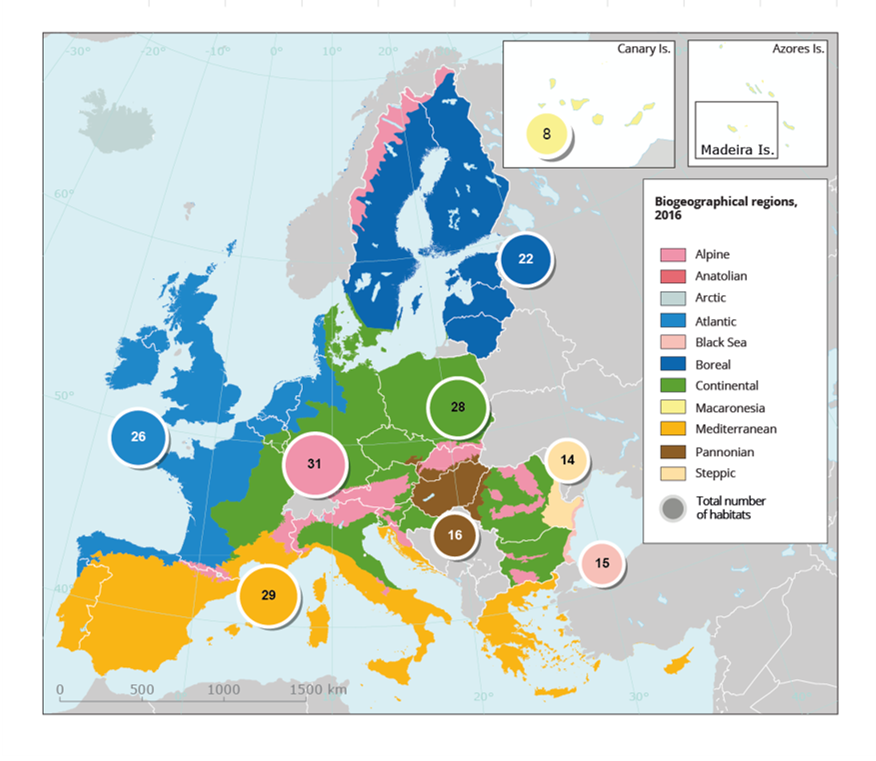 Note
Each dot represents an assessment outcome on the biogeographical scale. The analysis encompasses nine floodplain forest habitats, nine floodplain grassland habitats and 19 aquatic floodplain habitats.
If you want to learn more
Read more
Floodplain Restoration
As climate change will likely increase the flood risk in most of the Europe, developing strategies for managing flood risks that also provide benefits for other aspects of the environment is an important challenge. Preserved or restored floodplains provide an alternative to structural measures for providing flood protection, and at the same time support achieving higher quality ecosystem service like improved water quality, carbon storage, improved conditions for biodiversity conservation, and improved recreational value.
Natural water retention measures target the restoration or maintenance of aquatic ecosystems through developing, restoring or maintaining their environmental capacity to store water based on natural processes. They are cost effective and viable alternatives to structural flood protection. In addition, they support multiple ecosystem functions and services.
The most important pressures to tackle are linked to river stabilisation and flood protection structures and drainage, also known as hydromorphological pressures. These pressures often related to agricultural land use practices (FIGURE 4).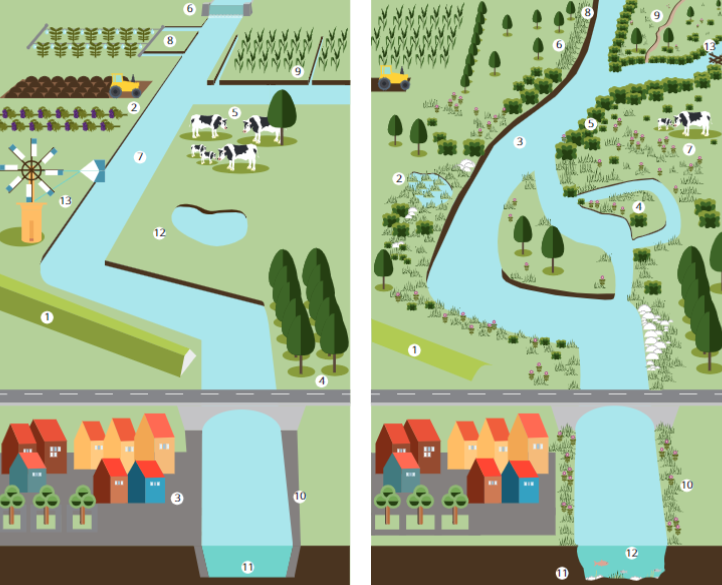 References
The main references used in this page are:
Related Resources
The data, dashboards and maps available from the WISE Freshwater resource catalogue: