MSFD Assessment Module
Version Updates
v7.07 (26-09-2019)
National descriptors
Introduced a new permission specific to the assessment edit page, to allow read-only access to that page.
v7.05 (24-09-2019)
National descriptors
Refactored security implementation
Allow MS Reporters (members of the

 extranet-wisemarine-msfd and extranet-msfdreporter group) access to 2012/2018 reports. Main page for National Descriptors and a Country Descriptor now accomodates them, showing direct access to the reports.
v7.00 (30-08-2019)
National descriptors
Sticky report title on assessment overview page
v6.99 (29-08-2019)
National descriptors
initial implementation of workflow and edit history popups for assessment

In assessment overview page for 2012 assessment header: changed Report By from Member State to Commission

Remake of the security and permissions (see spreadsheet with permission matrix)

Comment boxes in assessment edit page merged into a single comment box

Disabled focus MUID feature (in report data view). Now all MUIDs are showed, but this causes longer load times for countries with more data (EE D8 for example)
Regional descriptors
Art9/Art10: Added translation for fields: GES Description, Integration rule description for parameters. The translation interface (for all fields) only shows if the source language is different from english and the translated text is already available in national descriptors screen
Order features by master list
v6.93 (14-08-2019)
National descriptors
Art9: S

how MRUs with names and codes in report data view

Art8: in question A08Ad2, removed the word"Not" from the label: "1-25% of key aspect of methodology NOT reported for this criterion"

In assessment overview page round up the numbers to remove the decimals (65% instead of 65.22342%) in Phase 1 score

Align title with Assessment screen title (from 'Edit Finland's Assessment for D6/BAL/Art9' to 'Edit Commission assessment: Finland / Baltic Sea / D6 / Art9 / 2018')
Regional descriptors
Art10: Update date - display date '202012' as '2020-12' to improve clarity
Art10: Added new row '

Target code/description

'
Art10: 

Target value presented in order: Reported, Not reported

Art10: Update type presented in order: Same as 2012 definition, Modified from 2012 definition, New target

Art8: For fields with multiple responses (e.g. GES achieved; Assessment period, Related pressures, Integration rule type parameter & criteria), added count and % for each response (i.e. as done for Element status)

Hyperlinks to country National descriptor screen: open in a new tab and added separate link to each sub-region
v6.91
Also treat special case of Denmark reporting in Art 9 and Art 10 (same as Art 8)
Added help section

Regional descriptors: group headers in report data views 2012/2018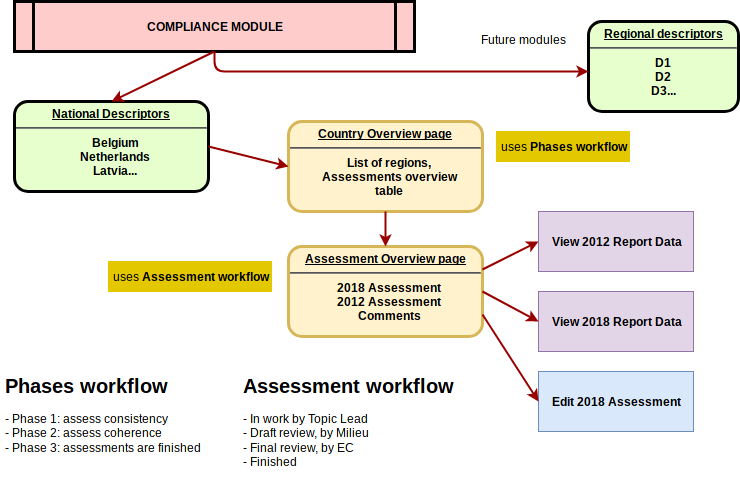 Date
Author
Related MSFD Article
Product/Report

Baltic Sea

North East Atlantic Ocean

Mediterranean Sea

Black Sea

Denmark

Estonia

Finland

Germany

Latvia

Lithuania

Poland

Sweden

Belgium

Denmark

France

Germany

Ireland

Netherlands

Portugal

Spain

Sweden

United Kingdom

Croatia

Cyprus

France

Greece

Italy

Malta

Slovenia

Spain

United Kingdom

Bulgaria

Romania

2022
MS
16
MS response to recommendations
2022
MS
17 (13, 14)
2022 update of programmes of measures, exceptions
2022
CIS
17 (13, 14)
2022 update of programmes of measures, exceptions
2021
MS
12
MS response to recommendations
2020
MS
17 (11)
2020 update of monitoring programmes
2020
CIS
17 (11)
2020 update of monitoring programmes
2019
COM
20
1st report on implementation of the directive

COM(2020) 259: on the implementation of the Marine Strategy Framework Directive (Directive 2008/56/EC)

SWD(2020) 60: Report on the implementation of the Marine Strategy Framework Directive - Key stages and progress up to 2019

SWD(2020) 61, Part 1: Report on the implementation of the Marine Strategy Framework Directive - Towards clean, healthy and productive oceans and seas

SWD(2020) 61, Part 2

SWD(2020) 61, Part 3

SWD(2020) 62: Report on the implementation of the Marine Strategy Framework Directive - Background document

2019
MS
12
MS response to recommendations
2019
MS
18
Interim report on programme of measures
2019
CIS
18
Interim report on programme of measures

GD12 - Guidance on Art. 13-14-18 reporting_July2018

2018
MS
17 (8, 9, 10)
2018 update of assessment, determination of GES, environmental targets
2018
CIS
17 (8, 9, 10)
2018 update of assessment, determination of GES, environmental targets
2016
MS
16
MS response to recommendations
2016
COM
16
Recommendations to MS
2016
COM
16
Assessment of 2016 Art. 13-14 reports

COM(2018) 562: assessing Member States' programmes of measures under the Marine Strategy Framework Directive

SWD(2018) 393: Accompanying the document Report from the Commission to the European Parliament and the Council assessing Member States' programmes of measures under the Marine Strategy Framework Directive

SWD(2019) 510: Marine Strategy Framework Directive – assessment of programmes of measures for Denmark, Estonia, Greece, Croatia, Lithuania, Romania and Slovenia

2016
COM
9.3
Criteria and methodological standards for GES (2017 revision)

Commission Decision (EU) 2017/848: laying down criteria and methodological standards on good environmental status of marine waters and specifications and standardised methods for monitoring and assessment, and repealing Decision 2010/477/EU

2016
MS
13, 14
Programme of measures, exceptions
2016
CIS
13, 14
Programmes of measures and exceptions

GD12 - Guidance on Art. 13-14 reporting_18-11-2015

GD10 - MSFD recommendations on measures and exceptions_25-11-2014

2015
MS
12
MS response to recommendations
2015
COM
12
Recommendations to MS
2015
COM
12
Assessment of 2014 Art. 11 reports

COM(2017) 3: assessing Member States' monitoring programmes under the Marine Strategy Framework Directive

SWD(2017) 1: Accompanying the document Report from the Commission to the European Parliament and the Council assessing Member States' monitoring programmes under the Marine Strategy Framework Directive

SWD(2018) 393: Accompanying the document Report from the Commission to the European Parliament and the Council assessing Member States' programmes of measures under the Marine Strategy Framework Directive

2015
CIS
15
Community action

GD11 - Guidance on Article 15 MSFD_04-05-2015

2014
COM
21
Protected areas

COM(2015) 481: on the progress in establishing marine protected areas (as required by Article 21 of the Marine Strategy Framework Directive 2008/56/EC)

2014
MS
11
Monitoring programmes
2014
CIS
11
Monitoring programmes

GD05 - MSFD recommendation on monitoring and reporting_07-05-2013

GD06 - Technical guidance on monitoring for the MSFD_2014

GD07 - Guidance on monitoring of marine litter_2013

GD08a - Monitoring guidance on underwater noise, Part I_Executive Summary_20-11-2013

GD08b - Monitoring guidance on underwater noise, Part II_20-11-2013

GD08c - Monitoring guidance on underwater noise, Part III_20-11-2013

GD09 - Reporting on monitoring programmes for MSFD Article 11_February 2014

2013
MS
12
MS response to recommendations
2013
COM
12
Recommendations to MS
2013
COM
12
Assessment of 2012 Art. 8-9-10 reports

COM/2014/097: The first phase of implementation of the MSFD

SWD/2014/049: Annex to the report - The European's Commission's assessment and guidance

SWD(2017) 1: Accompanying the document Report from the Commission to the European Parliament and the Council assessing Member States' monitoring programmes under the Marine Strategy Framework Directive

SWD(2018) 393: Accompanying the document Report from the Commission to the European Parliament and the Council assessing Member States' programmes of measures under the Marine Strategy Framework Directive

JRC in-depth assessment of the EU Member States' submissions for the Marine Strategy Framework Directive under articles 8, 9 and 10 [Descriptors 1, 2, 4, 5, 6, 8, 9, 10, 11]

JRC in-depth assessment of the EU Member States' submissions for the Marine Strategy Framework Directive under articles 8, 9 and 10 on hydrographical conditions (Descriptor 7)

2012
MS
8, 9, 10
Initial assessment, determination of GES, environmental targets
2012
CIS
8, 9, 10
Initial assessment, determination of GES and environmental targets

GD01 - Economic and social analysis for the initial assessment for the MSFD: a guidance document_21-12-2010

GD02 - Common Understanding of MSFD Art. 8, 9 and 10_22-11-2011

GD03a - Approach to reporting for the MSFD [Art. 8-9-10]_June 2012

GD03b - MSFD Reporting Sheets for Art. 8, 9 and 10_June 2012

GD03c - MSFD 2012 reporting guidance_June 2012

GD04 - Guidance for 2012 MSFD reporting, using the MSFD database tool_24-07-2012

2012
COM
20.2
International report

COM(2012) 662: Contribution of the Marine Strategy Framework Directive (2008/56/EC) to the implementation of existing obligations, commitments and initiatives of the Member States or the EU at EU or international level in the sphere of environmental protection in marine waters

2011
MS
7
Competent authorities
2011
CIS
7
Competent authorities

GD16 - MSFD Art.7 reporting guidance_22-02-2011

2010
MS
4
Subdivisions of marine regions or subregions
2010
COM
9.3
Criteria and methodological standards for GES

Commission Decision 2010/477/EU on criteria and methodological standards on good environmental status of marine waters [REPEALED by Commission Decision (EU) 2017/848]

SEC(2011) 1255: Relationship between the initial assessment of marine waters and the criteria for good environmental status

2008
COM
-
Marine Strategy Framework Directive

Directive 2008/56/EC establishing a framework for community action in the field of marine environmental policy (Marine Strategy Framework Directive)